Ubud's worldwide reputation as Bali's cultural and artistic centre has turned this once quiet village into a bustling tourists' hub; with no shortages of boutiques, restaurants, bars and villas that stand alongside museums, art galleries and other historic landmarks. This is the place to be to learn all about Balinese arts, including paintings, wood and stone carvings and watch performances like the Kecak, Legong and Barong dance.
If you're planning to visit Ubud for the first time, then do consider spending a few days to really understand what it has to offer. You may get a little overwhelmed, especially during the first couple of days, but getting lost to discover Ubud's charms is really part of its appeal.
The best way to get to know Ubud is to walk, which is doable if you're just exploring the town's centre, but motorized transportation may be required if you're looking to explore a little further away. While a motorcycle may be ideal to navigate the town's increasingly congested traffic, a car might be a better option for some, as it provides cool relief away from the island's heat.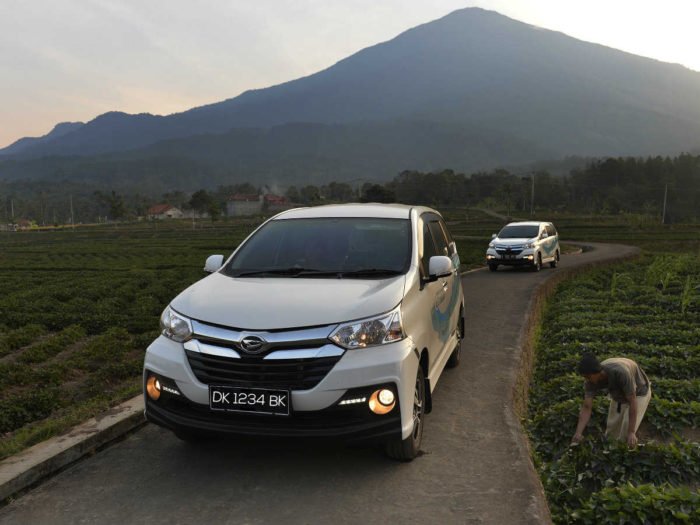 Here are some transportation options that you can consider while in Ubud:
Taxi fares are exorbitant in Ubud, mainly because the Taxi Cooperative restricts the supply of taxis to ensure that prices can be kept high. There are no Blue Bird Taxis either, as they operate out of Denpasar and rarely come to Ubud. Application-based transportation like Uber and Grab are also rare and you may encounter some hostility from the local taxis and transportation cooperatives when you try to book one.
Thanks to the Ubud Transport Association, you can enjoy sightseeing along Ubud's crowded streets and verdant nature from the comforts of an air-conditioned and chauffeur-driven car. Look for the circular "E" logo on windshields, and drivers carrying "TAXI" signs. Be prepared to haggle and do expect Rp 20,000 or more for just a short trip. The good thing about the local transportations though, is that the drivers would be glad to wait for you while you sightsee, visit or shop, for the right fee. They are also generally very flexible, and you can hire one for a single trip, a return trip or even for the entire duration of your stay.
Bemos, which are in actual fact public minivans, take visitors from central Ubud to Denpasar's Batubulan terminal and back, daily. Costs may differ for foreigners, but locals pay about IDR 8,000 per trip. Bemos run from early morning until about 4pm in the afternoon. If you're headed to Denpasar, you may have to change bemos at various stops along the way. Now with the availability of the government-run Trans Sabargita, you can comfortably head out to Nusa Dua, Kuta, Sanur and even to the airport for a fixed fee within air-conditioned comfort.
There are no public busses within and to Ubud but if you're with a tour group, then don't worry as your tour package would probably include pick-ups and drop-offs with a tourist bus.
You will never run out of options if you choose to explore Ubud with a motorcycle. There are many rental agencies and individuals along the streets with motorcycles for rent from IDR 40,000 to IDR 80,000 per day. You could also speak to your hotel's concierge to help arrange a rental for you. At Blue Karma, Ubud, the ever-friendly and helpful hotel staff will go out of their way to ensure that you find the right motorcycle at the right price for rent. Should you feel uncomfortable at the thought of driving one yourself, there are plenty of Ojeks (motorcycles with drivers) that can take you anywhere for a small fee. Be prepared to haggle, or just download the application-based service called "Go-Jek" that gives you a safer, more stable service at a fixed price.
This is a fantastic way to discover Ubud's quieter side. With its newly-obtained reputation as the centre of everything healthy and organic, riding a bicycle around Ubud would really be in style! A bicycle is available for rent from IDR 20,000 to IDR 30,000 per day; do speak to your hotel or resort's concierge to set one up for you.
After a busy day sightseeing and shopping, come and unwind in the luxuriously beautiful and magnificent Blue Karma Ubud. Enjoy a glass of refreshing cocktail or indulge in a mouthwatering dinner among paddy fields. Book now and luxuriate in the resort'sDeluxe Garden Suites, Premiere Suites, Superior Garden Suites or Royal Suites.