Expect the unexpected when you dine at Alchimiste Restaurant Seminyak. From the moment you step into the place, you would feel like entering an art gallery. Located in Blue Karma Hotel Seminyak, art is permeated in every corner of the predominantly blue interior. From the liberally placed paintings to the smallest details on the table, everything is a total feast for the eyes.
Taking the concept further, the restaurant offers you the real taste of culinary arts: exquisite and balanced flavors in delightful presentations born out of the juxtaposed inspirations, influences, and ingredients from around the world.
One of our signature dishes featured at the opening on 23 March 2019 was 75 Degrees of Roasted Lamb Rack. Served with kemangi (lemon basil) risotto—an Italian cuisine fused with a local ingredient—and shimeji mushroom pickles, the dish would intrigue your palate. The roasted lamb is a Japanese take on Sate Maranggi, which is indigenous to West Java, paired with a sauce you would similarly find in babi kecap (braised pork), a Balinese favorite.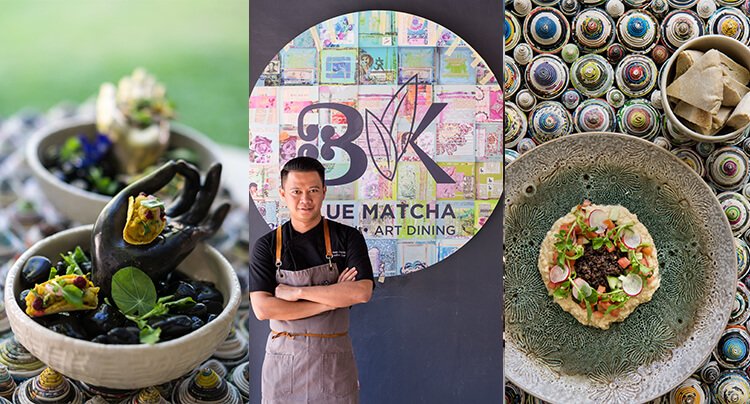 A strong Japanese twist can also be seen in another signature item, Tender Flaming Wagyu, which pays homage to the meat origin and a nod to the concept of Alchimiste. Still craving for more? We will be adding Matcha Risotto to our menu soon!
A visit to Alchimiste is not complete without a glass of Magic Indigo, a concoction of rum, mint syrup, and blue matcha from butterfly pea flower. Matcha Dazzling is as refreshing with the blend of yuzu, cem-cem leaves, gin, and green tea matcha.
Not only satisfying to the taste buds, every food and beverage in Alchimiste Restaurant Seminyak is crafted to indulge the senses; a rare find in Seminyak dining scene, making it a formidable contender for one of the best restaurants in Bali.
Alchimiste Executive Chef, Rachmat Ridwan Hakim, is determined to redefine the art of dining through the distinctive menu and put Alchimiste on the road to becoming one of the best restaurants in Bali. "Everything offered in our menu is the culmination of my thinking, my experience, and my expertise, combined with the restaurant's brand character, and garnished with my personal touch," he said, explaining the menu concept.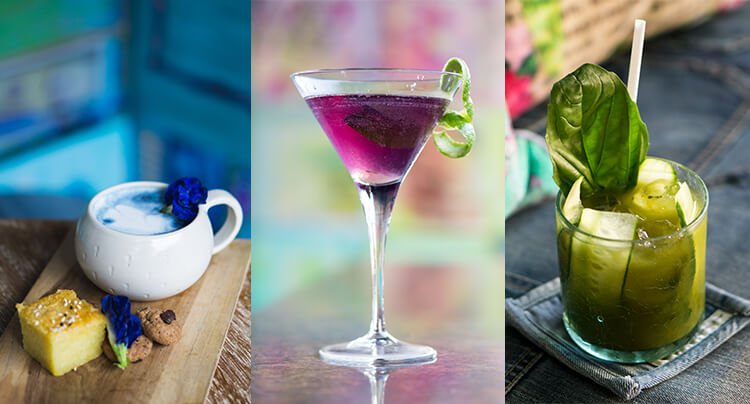 Chef Ridwan's culinary journey and experience have prepared him to one day be heading a kitchen operation that aims to be one of the best restaurants in Bali. For over a decade he worked in numerous upscale, fine dining restaurants across the continents and honed his skills in well-known and reputable hospitality brands in Indonesia. With a golden combo of mental toughness, perseverance, strong will, curiosity, and determination to constantly improve his skills and his expertise, he mastered a variety of cuisines, from Asian—which includes Indonesian and Japanese—to European—Italian and French in particular—as well as molecular gastronomy.
Born in Tasikmalaya, West Java, cooking has been a big part of Chef Ridwan's life ever since he was a child, when he used to help his mother buy ingredients and make sauces for the small family restaurant she ran in their hometown. He then went on to study at one of the best culinary schools in Indonesia, NHI Academy of Tourism Bandung. His love for the kitchen and cooking was accompanied by a thirst to learn from the best and to see the world, which later compelled him to commit to the path of becoming a professional chef. His search for mastery in his field brought him far from home, to a life of hard work in the kitchen to gain excellence, professionalism, and expertise. More than a decade later, Chef Ridwan came home to share his wisdom with us at Alchimiste Restaurant Seminyak.
He believes that food tastes best when made with the correct understanding of techniques, the right skills, a refined taste of flavors and ingredients, and most of all, passion. These are the things he brought to Alchimiste Restaurant Seminyak, where each item on the menu is an expression of the cuisines he had mastered along his journey, offering a truly unique dining experience in Seminyak and aiming to be one of the best restaurants in Bali.
Alchimiste Restaurant Seminyak opens daily from 7.30-11am for breakfast and from 11am-11pm for lunch and dinner.
Call +62 361 737 898 for reservation.
Click for menu.